Horny Lady – Francys Belle (Oculus/Go)
Starring: Francys Belle
Release Date: May 19, 2018
Studio: SexBabesVR
Tags: best vr porn, vr porn, vr videos online, virtual reality porn, xvirtualpornbb, 5K+, 60fps, POV, big dick, blowjob, body cumshot, brunette, cowgirl, cumshot, girl-boy, hardcore, kissing, lingerie, long hair, shaved pussy, titjob,

There she is, sitting across from you taking a long drag from her vape as she looks at you with those gorgeous eyes. She's wearing the silkiest lingerie, as seductive as you could possibly imagine. We don't know what Francys Belle is smoking, but it's certainly put your girlfriend into a special mood, and she's eager to get your cock out and start having some fun. Experience one of the prettiest ladies in porn in ultra high definition 5K videos. Whether you're sitting in the chair as she sucks your cock deep into her mouth, or laying on the floor while she rides you to a screaming orgasm, you'll have to pinch yourself just to remember that you're not really between the legs of this incredibly sexy brunette. Check out SexBabesVR's latest offering in this virtual reality experience perfectly titled "Horny Lady".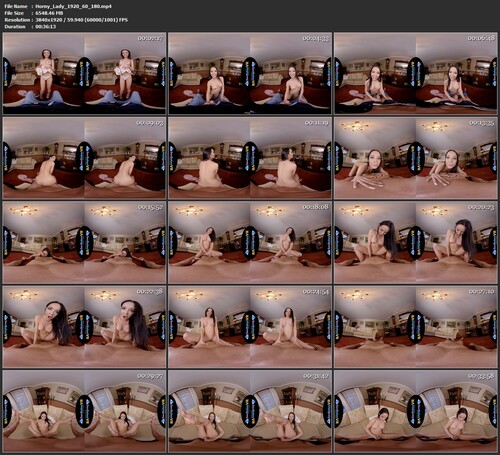 File Name: Horny_Lady_1920_60_180.mp4
Duration: 00:36:13
File Size: 6.39 GB
Resolution: 3840 x 1920
Video: mp4
Audio: AAC
The world's #1 VR Porn site
New VR porn videos, Games Porn and more Content every day. We love VR. xVirtualPornbb.com is ground zero for the virtual reality porn revolution. We understand that VR Porno is a driving force for the adoption of virtual reality. And adult VR helps fuel the technological innovations required to make VR a reality. xVirtualPornbb.com is compatible with all vr headsets.